End-to-end solution for big plastics manufacturing.
The PRO-FORM team is made up of 140 talented members across a broad range of departments who can offer support from the initial stage of product development and design, through to the final stages of supply chain and sales.
Depending on your specific required services, PRO-FORM is able to offer you a complete or partial solution beyond just the core business of plastic extrusion or manufacturing. Get in touch with PRO-FORM to talk further about how their service capabilities can add value to your business and product.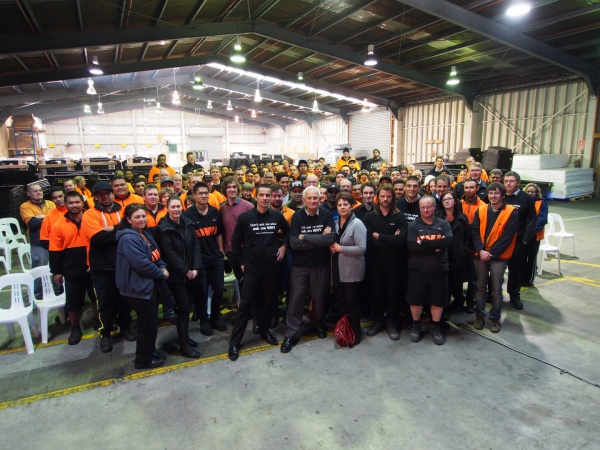 ---
Research & Development
PRO-FORM has an experienced R&D and tooling team that is continuously challenging the status quo and redefining the future for the big plastics market. Research and development capabilities include conceptual design/development, consumer testing, verification testing, product launch, rapid prototyping, testing and production tooling. Product development capabilities include 3D laser scanning and OEM data utilisation, Solid Works and Powershape CAD packages, Catia and Unigraphics through translation. As well as in-house pattern making up to 4m x 2m, prototype tooling, production tooling, production engineering, jigging and check fixture manufacturing.
---
Plastic Extrusion
PRO-FORM has a large extrusion team that converts plastic masterbatch granules into quality plastic sheet. PRO-FORM have three large sheet extrusion lines which often run around the clock. They offer a range of materials that are used externally and for their own automotive products including PE, ABS, ASA, PP and TPE. Multi-layer co-extrusion is capable of up to seven layers and post-extrusion CNC routing. Because PRO-FORM thermoforms and extrudes plastic in-house, they can get a 100% recovery of plastic off-cuts and waste.
---
Tool Making
PRO-FORM has produced hundreds of tools for vacuum forming since 1993. Today PRO-FORM has a dedicated tooling department who produce and maintain a large number of tools from both fiberglass and aluminium.
---
Vacuum Forming
Vacuum Themoforming is one of the core processes at PRO-FORM, and they take pride in their high quality and extensive expertise in this area. You can have total confidence in the quality of PRO-FORM thermoformed parts who manufacture for many OEM companies which have some of the strictest process and quality control standards.
---
CNC & Robotics
PRO-FORM employs several large CNC machines which are used for a variety of tasks but mostly used for cutting the plastic sheet into specific shapes, sizes and patterns. PRO-FORM's CNC machines are accurate and state of the art, coupled with experienced machinists, you can ensure a quality service.
---
Packaging
PRO-FORM have become experts in efficiently packaging large plastic parts into containers and less than container loads (LCL) which are then distributed locally, Australia and worldwide.
---
Logistics and Supply Chain
From exporting over 500 containers every year, PRO-FORM have adopted very efficient and well-established packaging SOPs to ensure freight efficiency and delivery in good condition. PRO-FORM can also consolidate mixed SKUs into individual orders. PRO-FORM arrange documentation and freight forwarding, as well as customer order tracking and updates.
PRO-FORM's supply chain includes international procurement from Asia, Middle East, USA, Europe and Australasia. Their European and Australian warehousing enable DFS shipping and improved customer service.
---
Recycling
Unlike you and I, plastic is immortal which is one of its greatest traits and also its biggest curse. PRO-FORM pride themselves on being able to come up with solutions to closing the circle of plastic so it doesn't end up in landfills. With every product PRO-FORM makes, they consider how it will be recycled at its end of life and take steps to ensure it happens easily.
PRO-FORM also seek opportunities to make products from recycled material where-ever possible. PRO-FORM are always seeking new products which use a recycled material, if you have a recycled product proposal then please get in touch, the team would love to hear from you.