BEDLINER OVER-RAIL
Extra bed-rail protection
The Mitsubishi Triton L200 and Fiat Fullback over-rail bedliner provides great protection by covering not only the whole inside of the vehicle bed but also by covering the top of the vehicle beds side rails. This is the main difference in the over-liner bedliner versus the under-rail bedliners. The trade off for this extra protection is that the liner is not as discreet as an under-rail liner and is not compatible with many bed-top accessories such as Tonneau covers, rolling covers, Tango and Canopies.  The over-rail is a great option for those who require maximum protection to their truck, particularly for work-truck applications.
Due to the nature of the tie hooks in the Mitsubish Triton L200 and Fiat Fullback this bedliner has cut-outs which allow for the tie hooks to protrude through, which gives you complete access to these tie down points.
PRO-FORM have over 24 years of bedliner manufacturing for many OEM and aftermarket companies. It is through this long and successful history that we have acquired the skills to make very high quality polyethylene bedliners for your ute, pickup, bakkie or whatever you decide to call it. We've become premium bedliner manufacturers from using the highest quality materials coupled with rigorous testing to make sure every bedliner lasts the distance no matter how much use your truck gets. All of our bedliners are moulded specifically for the specific vehicle to ensure a perfect fit.
All of our bedliners are made in house from a fully recyclable high-density polyethylene (HDPE) material.
KEY FEATURES
Compare Bedliners
Additional Information
Extra bed-rail protection
Super tough – constructed from a quality high-density polyethylene (HDPE) plastic
Built to last with UV and chemical resistance
Non-drill fitting
Access to factory tie hooks, sometimes with the use of additional brackets
Tailgate cap-on or cap-off option
Made in New Zealand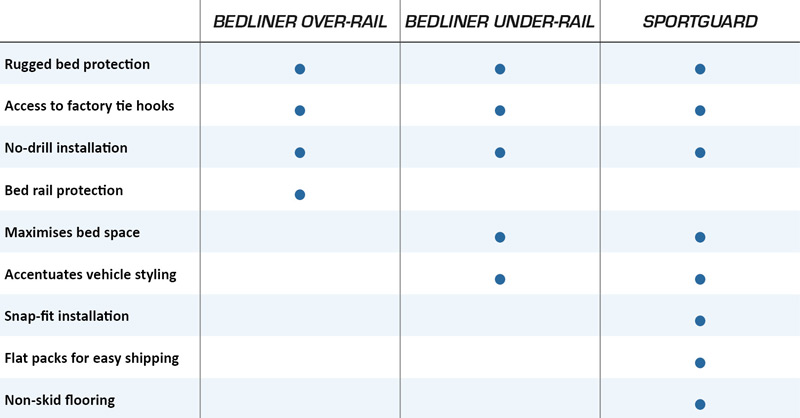 Mitsubishi Triton / Fiat Fullback Bedliner Over-Rail

Mitsubishi Triton / Fiat Fullback Bedliner Over-Rail Bed Liner

Mitsubishi Triton / Fiat Fullback Bedliner Bed Liner Hooks
Why are PRO-FORM Bedliners so good?
Fits like a glove:
Every bedliner made, starts with a highly-comprehensive mapping of the pickup truck bed. We 3D map and analyse every contour and groove of the truck's bed so we can develop the perfect fit which will allow access to factory tie hooks and ensure to maximise the space of your pickup bed. This is also why Pro-Form bedliners look so sleek and contoured.
High quality plastic
Plastic sheet is the core ingredient of a bedliner. To ensure we get the most consistent, best quality plastic sheet for bedliner applications, we manufacture our own plastic sheet in-house using some of the Southern Hemisphere's largest plastic extruders. We use only the best-quality, high-density polyethylene materials and add in UV and chemical resistant additives to ensure it lasts the life of your truck, through every knock, smack and whack you would expect in the toughest high-use environments. We've got your bed covered, whether it be in the sweltering heat of the Australian Outback or the freezing cold of Siberia.
Fitting kit with purpose
Fitting kits are the finishing touch that sets apart the fit and functionality of a good and bad bedliner. All of our liner fitting kits are non-drill and where applicable use super strong tape, aluminium extrusions and bolts designed to last the life of the truck.
Fit Your Pickup
View bedliners and other PRO-FORM products on your vehicle here.
Fit Your Pickup! >