SPORTGUARD | FORD RANGER
Where Bedliner meets innovation
LEADING THE PACK
The PRO-FORM Ford Ranger SportGuard is the evolutionary step forward in the process of bedliner innovation. Using a 5-piece design, the SportGuard overcomes many limitations of its predecessor.
This means you can kiss goodbye to those loud thuds of sliding cargo in the back of your Ranger, with SportGuard's non-skid thermoplastic elastomer floor, your cargo stays where your leave it! The 5-piece design also meant we could get a closer fit to the Ranger truck bed to maximise the space and allows for individual units to be put in a single box and shipped door to door. Allowing use of the standard truck tie hooks, SportGuard really is the whole package.
KEY FEATURES
Additional Information
Non-skid floor from a durable TPE material
Simple no-drill installation
UV & chemical resistant – made to go the distance
Factory tie down hook access
Super close fitting to maximise bed space
Cap-on and cap-off tailgate options
Packed into a single box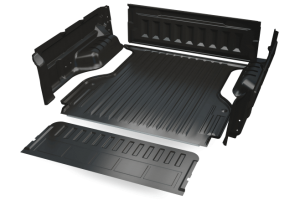 SportGuard liner fitted to Ford Ranger T6

SportGuard liner fitted to Ford Ranger T6

SportGuard's aluminium badge
Why did we design SportGuard?
We had been producing traditional bedliners for 17 years and although there were many minor innovations along the way, particularly with the liner fit, tooling and manufacturing efficiencies, the industry had never seen any significant innovations. We set out to develop a better solution, and in turn solved three main limitations of a bedliner – the un-exciting aesthetic, the slippery floor and lastly, the difficult logistics of the product, meaning that it was practically impossible to ship single or small quantities. After a lot of time at the drawing table, trying, testing, failing, and trying again, we now have a truly innovative and premium bedliner which is far superior to any traditional bedliner on the market. The key to SportGuard is the TPE non-skid floor and the snap-fit installation channels, which allow the parts to snap fit together seamlessly, giving your cab the same protection you would expect from a single-piece liner.
Better than a spray-in liner?
The main reasons pickup truck owners sometimes choose a spray-in liner vs a drop-in liner is because of the non-slip feature and to maximise the bed space. PRO-FORM's SportGuard achieves both features, but without the permanency to the pickup truck bed. Unlike spray on liners, SportGuard will never chip, dent, peel or scrape off, meaning a far more reliable and safe solution to protecting your pickup truck or ute bed.
Fit Your Pickup
See SportGuard and other PRO-FORM products on your pickup truck here
Fit your Pickup! >