Plastic Sheet Extrusion Specialists
After many successful years manufacturing in the automotive industry, PRO-FORM has gained significant plastic extrusion expertise to create custom solutions for external customers. PRO-FORM have kept at the forefront of plastic manufacturing by continuously innovating and adding technical modifications to their sheet making process. Today PRO-FORM distribute quality sheet throughout New Zealand, Australia, and the world.
See below for more information on the technical capabilities of PRO-FORM's plastic extrusion manufacturing.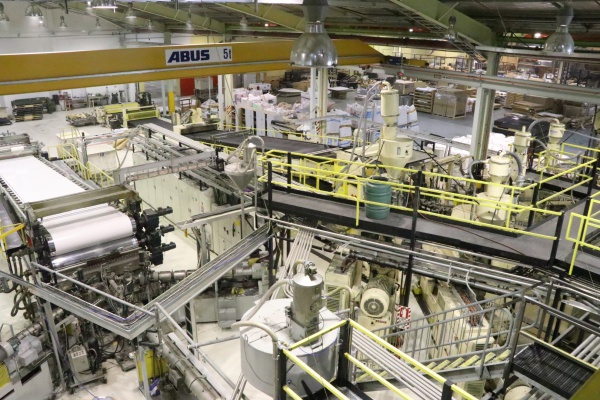 ---
Capabilities
PRO-FORM have three large, multi-layer extrusion lines which all have slightly different capabilities. Between the three of these machines, PRO-FORM can offer the following:
Materials including (but not limited to) HMW-HDPE, LDPE, ABS, TPE, PE-100
Multi-layer extrusion A/B – A/B/A – A/B/C with multiple colours or materials
Smooth, Levant or Haircell finish options
Colour to match any Pantone code
Material additives including UV resistance, chemical resistance and flame retardant
Virgin, regrind or a blended material masterbatch options
Custom sheet sizing available
Sheet or roll packaging
An output of up to 1300kg of sheet per hour
ISO 9001 certified
---
Common Plastic Sheet Extrusion Applications
Agriculture/Equine
Troughs
Tanks
Cladding
Fence Cladding
Feeder Bins
Automotive
Ute Liners
Boot Mats
Spacers
Ute Lids
Ute Canopy Shells
Industrial
Cladding
Pallets
Conveyors
CNC Parts
Recreational / Other
Pools
Kayaks
Boats
Playgrounds
Signage
Portable Toilets
Scaffolding
POS Displays
---
Extrudable Materials
PRO-FORM run a range of different material masterbatch in their plastic extruders. Each material has different chemical and physical properties which are best suited to different applications. To learn more about what materials might be best for your application, get in touch with one of PRO-FORM's knowledgeable sales staff.
High-Density Polyethylene (HDPE)
Thermoplastic Elastomer (TPE)
Acrylonitrile Butadiene Styrene (ABS) / (AES)
Polypropylene (PP)
Polyethylene 100 (PE-100)
Other materials or blends on request – speak to our staff if you require a different material to be run
---
Recycling
PRO-FORM practice lean manufacturing and re-use plastic off-cuts in internal applications
It is recommended that any external plastic off-cuts are supplied back to PRO-FORM to be recycled
PRO-FORM are actively seeking new opportunities to use recycled materials. If you know of any potential recycling products or projects then please get in touch, they'd love to talk.
---
If you would like a quote or to learn more about PRO-FORM's plastic extrusion capabilities then get in contact with their team to find out more.
---