PRO-FORM Vacuum Forming / Thermoforming
PRO-FORM has been transforming big plastic through high volume, large part vacuum forming in Hamilton, New Zealand for over 20 years.
PRO-FORM's global success stems from specialist knowledge in large part vacuum forming, in which PRO-FORM have manufactured for many OEM auto-manufacturers worldwide. Today PRO-FORM exports a variety of vacuum formed parts including automotive products of bedliners, canopy shells, ute lids and cargoliners to Australia, New Zealand, and 60 other countries.
PRO-FORM also vacuum form products for the equine, agricultural, industrial and recreational industries. Get in touch to find out how PRO-FORM can help shape your project from design through to manufacturing and logistics.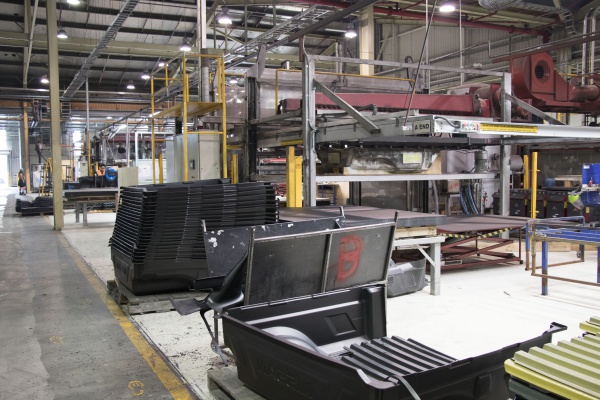 ---
PRO-FORM Vacuum-Forming Specifications
Specialise in large part vacuum forming
Deep draw vacuum forming
Wide range of materials including HDPE, TPE, ABS.
Single skin vacuum forming
ISO 9001 certified manufacturer
Large capacity for medium to high output with over a dozen forming stations
---
Common Applications
Automotive
Boot Mats
Ute Liner
Ute Lids
Ute Canopies
Motorcycle Fairings
Tractor Panels
Caravans & RV
Roof Boxes
Flares
Agricultural / Industrial
Feeder Bins
Muscle Farms
Troughs
Tanks
Potting
Wheelburrows
Cladding
Pallets
Signage
Scaffolding Plank
Recreational / Other
Kayaks
Boats
Pools & Spa
Tanks
Snow Sleds
Golf Kart Panels
Paddling Pools
POS Display
---
What is Vacuum Forming and what are the benefits?
Plastic vacuum forming is a thermoforming process to convert a plastic sheet into a shape. Firstly a thermo-plastic sheet is heated, then vacuumed tightly onto a mould to re-shape the plastic sheet to the mould. The sheet is then cooled down and the mould is removed from the plastic which now holds its new form. This is different from the process of rotational moulding, injection moulding and gas assisted moulding. Vacuum forming is comparatively:
Lower mould costs and shorter mould lead times (than injection & blow moulding).
Faster production for large volume runs.
Cost effective way of forming large parts.
Freedom of design – easily change the product material/finish/colour/texture by using a different plastic sheet on the same tool.
High-quality finish with no joins or lines where tools meet
Formed parts can be very strong, often out-muscling steel and fibreglass at a lesser weight.
Robotic trimming can accurately and efficiently trim edges and features in the part.
Will hold its shape even under extreme conditions/temp.
Recyclable. Most vacuum forming materials are fully recyclable. Instead of sending waste to the landfill, scrap material is collected, granulated and then re-extruded with virgin resin into a new sheet.
---
Recycling
PRO-FORM actively practice a zero plastic waste on-site by re-grinding all vacuum forming off-cuts and re-extruding it into plastic sheet. Almost all vacuum-form materials can be fully recyclable at their end of life.
PRO-FORM are actively looking for vacuum-forming projects which use recycled product. If you think you have a product which could use recycled plastic then please get in touch with the sales team to discuss your ideas.
---
PRO-FORM can also take care of your:
Product Development
Extrusion
CNC and Robotic Automation
Tooling
Assembly
Supply Chain