Our Blog
Keep up to date with PRO-FORM's latest news and articles here
Canopy, Hard Lid, Roll Lid or Soft Tonneau Cover; Find the Best for Your Ute.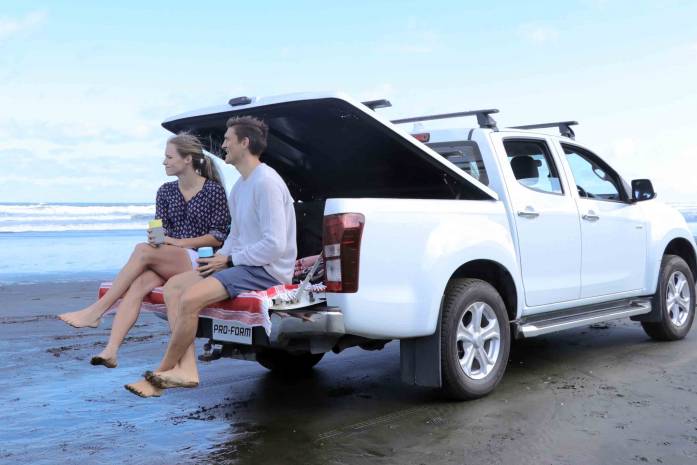 If you've recently bought a ute or thinking of buying one, chances are you will want something to cover up that open deck or tub on the back which is exposed to theft and the elements. A cover can be one of the most expensive accessories you will purchase for your ute, so it pays to get it right the first time. There are a lot of points to consider when purchasing a cover for your ute so we've outlined some of the benefits and features of each ute cover to help make your decision easier.
This article is intended to help owners of popular ute models in New Zealand and Australia like the Ford Ranger, Volkswagen Amarok, Nissan Navara, Toyota Hilux, Isuzu D-max, Holden Colorado, Mitsubishi Triton and the Mercedes Benz X-Class.
How they stack up.
| | | | | |
| --- | --- | --- | --- | --- |
| | Canopy | Hard Lid | Roll Lid | Soft Tonneau |
| Storage | 9 | 6 | 5 | 7 |
| Usability | 6 | 8 | 8 | 6 |
| Security | 7 | 9 | 5 | 2 |
| Accessorising | 9 | 7 | 6 | 3 |
| Style | 6 | 9 | 6 | 3 |
| Price | 3 | 5 | 6 | 10 |
| Total /50 | 40/50 | 44/50 | 36/50 | 30/50 |
---
CANOPY
Quick Summary: Storage Storage Storage! A canopy is a good option for you if you want to safely store lots of small to medium sized gear in your ute and aren't too worried about a sporty look.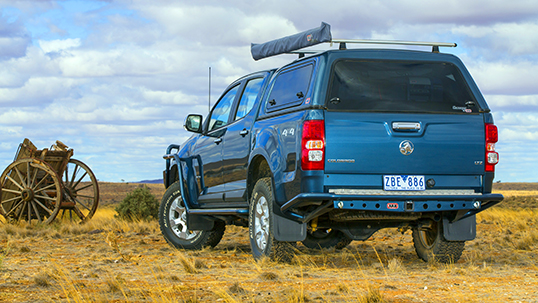 Storage 9/10
The main advantage of a canopy is going to be the amount of gear you can fit in the back of your utes tub, this is particularly useful if you go on regular camping trips or hauling lots of small to medium sized gear. If you plan to haul large gear like motorbikes, fridges and pallets then be aware; ute canopies have a drawback from their semi-permanent design which doesn't make them practical to take on and off.
Usability 6/10
Some canopies will come equipped with opening side windows to access gear that is not easily accessible from the back of the ute – if you do decide to buy a canopy we would recommend paying the extra dollars to get a model which has the side windows as it can be a real pain not being able to reach something which is wedged up the front of the tub. Alternatively it is quite common to fit a drawer system, such as an ARB Drawer that provides access to the hard to reach spaces in the front of the tub
Most canopies will also come with an internal LED light to help you see in the front of the tub without having to pull out your smartphone torch.
Some canopy users note that the canopy can impair vision through your rear-view mirror. This impairment is often caused from the extra two panes of glass which you have to look through which can cause strange reflections and blocking the light.

Security 7/10
Generally, your gear in a canopy will be pretty secure. All modern canopies come with key locks and some premium models will have central locking integration such as ARB's Ascent canopy. Windows are a weak point for breaking in and also increase the chance of a thief seeing inside – so it pays to get a dark tinted window option to reduce visibility into the tub.
Accessorising and Customising 9/10
If you would like to have roof racks on your utes canopy, then do some research before you buy them as some models do not support canopy racks. Most premium model canopies will accept roof racks with some canopy manufacturers claiming to have load ratings up to 250kg.
Bedliners and bed mats usually pair well with a canopy. Items such as drawers as mentioned above are also great accessories to pair with your canopy.
Style 6/10
Let's be honest, you're proud of your ute and you want whatever you fit to it to enhance it's look. How do Canopies stack up? That's all down to personal preference in the end, but generally speaking canopies are more practical than stylish, but that's up to you to decide!
Price 3/10
A canopy is definitely going to be the most expensive accessory cover option for your ute, especially if you pair it with other accessories like drawers or roof racks. Although it is the most expensive out of the options, if it suits your lifestyle then it's money well spent.
---
HARD LID or HARD TONNEAU COVER
Quick Summary: If you want a stylish option with okay storage, great security and usability then a hard lid is probably for you!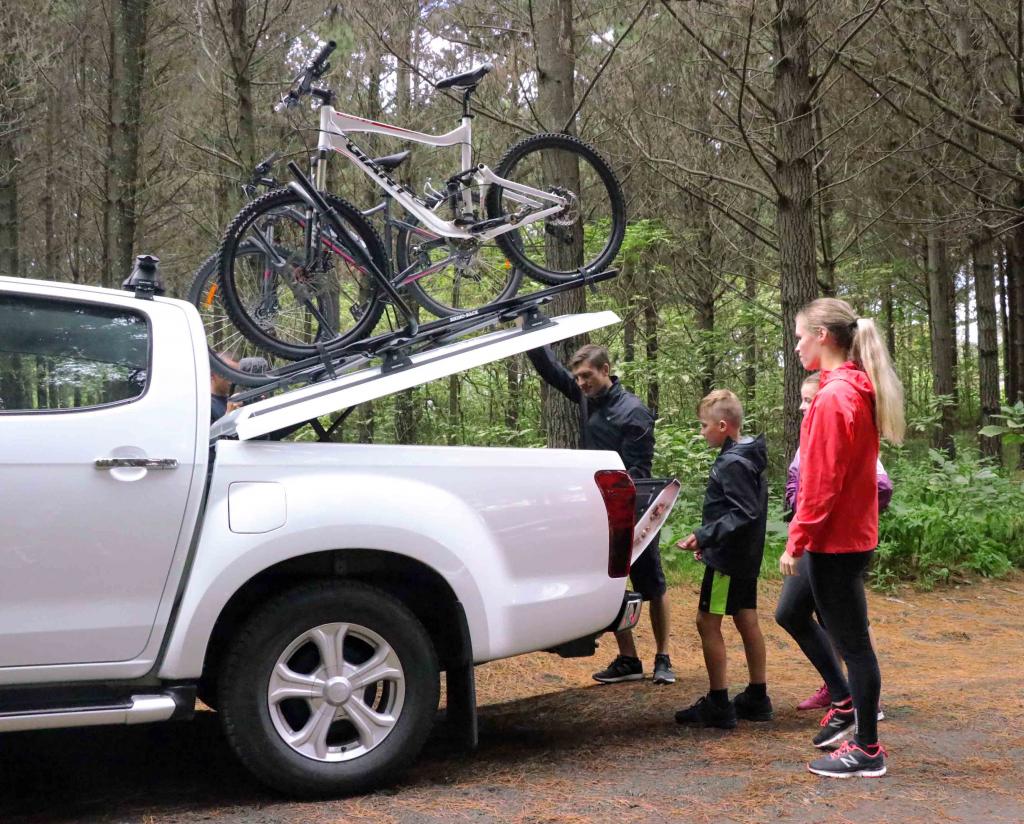 Storage 6/10
Obviously storage is going to be less than that of a canopy as you no longer have the volume above the side walls of the tub. For most people this won't be an issue, but if you plan to carry a lot of gear in the ute at all times then it may pay to stick to a canopy.
Usability 8/10
A key part of the usability is how accessible your gear inside is – As the whole lid lifts up, getting to your gear can be pretty easy from any point of the lid. The tricky access points are generally up close to the cab where the hinges block access – meaning you might find yourself crawling into the tub to get that water bottle out that's rolled out of reach.
A major benefit of a lid is that many models like the SPORTLID V can be quickly removed without any tools, for when the motorbikes or large items like a fridge need to take centre stage. This is often seen as a benefit over a canopy which is more permanently fixed. Watch how to remove a SPORTLID here.
Modern hard lids have ergonomic push handles and powerful gas struts to make opening them with just one hand easy. It's also common to have an automatic or manual light so you can easily see into the depths of the ute tub.
Security 9/10
How hard is it to break into a ute lid? Most models of lids are pretty dam hard to break into! Most lids come with a manual key lock and often have dual side latching locking actuators. Models like the SPORTLID V have the option to have central locking integration for ultimate peace of mind, so when the cars locked so is your lid. Hard lids don't have any major weak points. Fibreglass, ABS Plastic and aluminum of which hard lids are made from are all materials which you cannot break into without serious tools and force.
Ute lids provide not only security from thieves but also from the elements. As ute lids wrap over the edge of the ute tub and have seals which sit on the edge, they are usually very weather tight and will provide great protection from the elements.
Accessorising and Customising 7/10
In recent times ute lids have been designed to accept many customisation options. Most hard lids will be able to be paired with an under-rail bedliner without any, or much modification to the liner. If you pair a PRO-FORM liner with a PRO-FORM lid for example, you can rest assured they will pair without any modification needed.
Some lids like the SPORTLID V are now coming out with built in accessory channels, which make adding roof racks to the lid a breeze and increases the external storage for items like bikes and surfboards.
Internal accessory channels have now been added to models like the SPORTLID V. What these internal channels do is allow you to add tie down hooks and load dividers to the inside of the lid. A great feature, when carrying fragile items that need to be kept in place.
You can also add accessories like drawers under the lid to increase storage organisation.
Style 9/10
It's fairly undisputed that ute hard lids look sporty and integrate well into the overall look of the vehicle. Want to add a couple more style points? Then some custom decals and a sport bar will give your ute the ultimate style package – check out this Ford for a great example.
---
ROLL LID AND SHUTTER LIDS
Roll lids have been around a while and with the introduction of them onto the Ford Ranger Wildtrak they have become a lot more popular. How do they stack up against the canopy, soft tonneau and hard lid?
Quick Summary: Shutter lids provide a modern after-market look with some great functionality while providing your ute with protection from the elements.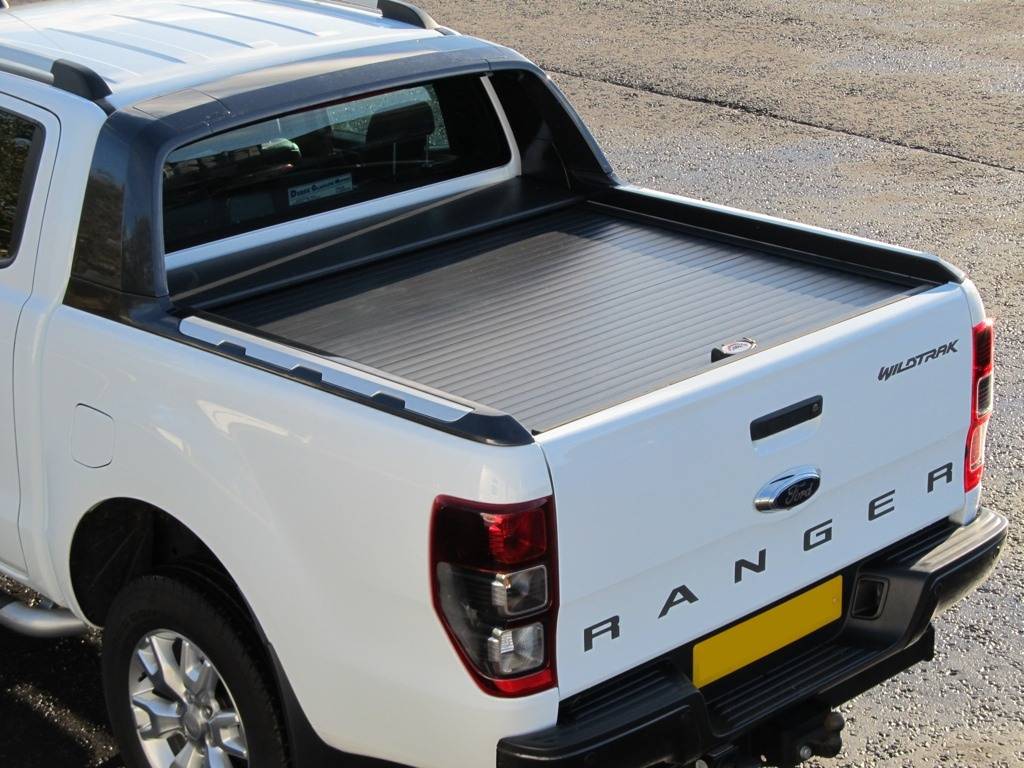 Storage 5/10
Similarly to a hard lid, it is simply not going to fit in as much in as a canopy. Roll lids fit marginally less than a hard lid or soft tonneau cover, as they sit recessed into the tub and also house the roll cartridge for the lid to fold into.
Security 5/10
Security differs from model to model, but shutter style roll lids are prone to knife attacks as they have weak points. Your average thieve and opportunist won't know how to do this, so you should be ok, but it pays to do your research to find out if the model of roll lid you are looking at has a weak point.
Security from the weather and water is sometimes an issue. With lots of moving parts and seals it is common for roll lids to ingress water and dust over time.
Usability 8/10
Access to the gear in a roll lid is very good, similarly to the soft tonneau. Once rolled open you can access gear easily from both sides and the rear.
Opening and closing functions vary between models. Some can be opened and closed with an electric remote, or manually with a pull tag. Another popular model, Mountain Top which is seen on the Ford Wild-Trak uses a pull tag which you pull one way to halt it and the other way to release it fully.
The roll lid is semi-permanent design, so cannot be removed quickly and easily. Bear in mind if you plan to carry motorbikes or similar items, which need to be mounted to the front of the tub, you will not be able to as the front of the tub houses the cartridge which isn't load bearing.
Accessorising and Customising 6/10
Most roll lids will fit with bed liners and other bed protection options. The Wildtrak's mountain top allows for roof rack accessorising with accessory channels. Generally you cannot add sport bars to roll tops but some models allow adapters to fit a roll top, this will vary from model to model.
Style 6/10
As roll lids aren't colour coded to the vehicle, the appearance on a particular vehicle can vary a lot. If you go for a roll lid, look at the details on the ute and select a roll lid which ties in with the utes features, so that it doesn't look like it's an afterthought. Tying in with the mirrors, door handles and detail trimming is the best way to pair a lid to a ute.
---
SOFT TONNEAU COVER
Quick Summary:
If you need simple to keep eyes and the elements out of the back of your ute, then a soft tonneau is a great option that will do the job!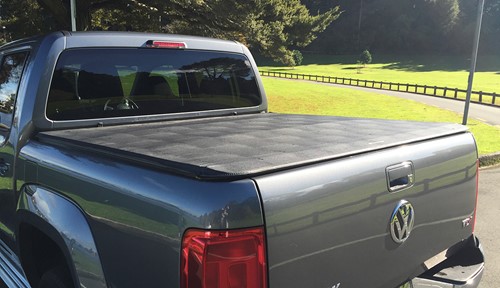 Storage   7/10
Soft tonneau covers don't take up much room and usually sit flush with the ute tub, so storage wise they are a good solution. They are also easy to take off and store when you need to move large gear.
Usability     6/10
Access to you gear is pretty easy, the lugs or pull-over systems on some covers can be a little bit tedious or tricky to open and close quickly. Keko covers (shown in the photo above) use an easy pull system which is much easier than the bungy and lugs system seen on some soft tonneau covers.
Once the lid is open though there is no problem accessing your gear from any part of the ute tub.
Security     2/10
Security is a downside of the soft tonneau cover. It will certainly stop people seeing into the tub and minimise opportunity theft, but both yourself and thieves know that if they want to take a look inside, then they can. 
A soft tonneau cover will do a reasonable job of keeping the rain and dust out.
Accessorising and Customising    3/10
Soft tonneau covers usually work no problem with under rail and some over rail bedliners.
Some tonneau covers are compatible with roll/styling bars.
Style 3/10
Soft tonneau covers give a clean finish to your ute and black goes with anything, so you can't go wrong.
SUMMARY
So we've given you a quick breakdown on some of the pros and cons of each of the cover options available for your ute, hopefully it sheds some light on what the best option is for you.
Although the ute lid came out as the top option overall it really does depend on the use and environment which you will be using your ute.
If you would like more details or our opinions and experience with ute lids, canopies, roll or shutter lids and soft tonneau covers then please get in touch – we'd love to hear from you. 
This article is was designed to help owners of popular ute models in New Zealand and Australia like the Ford Ranger, Volkswagen Amarok, Nissan Navara, Toyota Hilux, Isuzu D-max, Holden Colorado, Mitsubishi Triton and the Mercedes Benz X-Class, decide on what ute cover accessory is best for them.